Northstowe: Councillors approve first phase of new town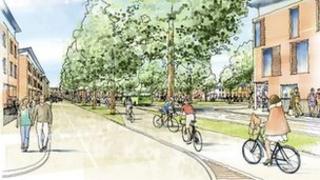 Plans for the first phase of the Northstowe new town in Cambridgeshire have been approved.
South Cambridgeshire councillors voted in favour of 1,500 new homes, a primary school, shops and other facilities being built by the A14 at Oakington.
Ultimately 10,000 new homes are planned for Northstowe, which would be the biggest new town in Britain since Milton Keynes.
The decision means building work could begin in 2013.
It was opposed by some local people who cited concerns over noise and traffic congestion.
'Into a reality'
Developer Gallagher's plans for the first phase also include a sports hub, areas of open space, a local centre, "employment opportunities" and a site for a household recycling centre.
The council said a further report would be presented to the Northstowe Joint Development Control Committee early next year detailing how construction of the town would put "quality first" while making sure it was still financially viable.
Tim Wotherspoon, the council's cabinet member for Northstowe, said: "The decision today is a huge landmark for Northstowe as the town has been talked about for more than 10 years.
"We are now at the stage of turning a vision into a reality and will begin to look at the fine detail to make sure the town is of the highest quality possible."