Perse School pupils let off punishment for clever excuses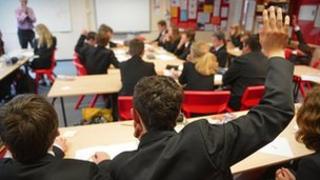 Witty pupils at a Cambridge school are being let off for minor offences if they can conjure up quick and clever excuses for what they have done.
Ed Elliott, head of the independent Perse School, told his pupils they could escape punishment if they could explain themselves in 10 seconds.
He said "out-and-out falseness" would not be allowed but "white lies" may be.
Mr Elliott said: "It's a great lesson in life to talk your way out of a tight corner in a very short period of time".
Mr Elliott, whose independent school caters for pupils aged three to 18, said he wanted to help create a "quick-thinking, communication-savy generation" and stated many pupils had risen to the challenge.
He believes such skills could help create the next generation of British entrepreneurs and "wealth creators".
"There are lots and lots of children out there who have got wonderful academic skills, but some of those academic skills can be under-utilised if they don't know how to communicate the message effectively," said Mr Elliott.
'Bend the truth'
"Getting children to talk their way out of minor misdemeanours is a wonderful way of encouraging such creativity and fostering good communication skills."
Sam Leith, an author and expert on rhetoric, said rather than teaching children how to lie, Mr Elliott was training pupils to "bend the truth".
"I think it is a brilliant idea that you get the pupils to learn to be pragmatically witty and quick on their feet," he said.
"You can see this being a really important lifeskill and actually politicians, some of them, are the absolute straight arrow, but often the ones who get further are the artful dodgers."
The Department for Education said as the school was independent it could not comment.