Peterborough Town Hall attacked with graffiti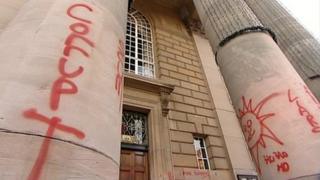 A woman has been charged with criminal damage after allegedly painting words including "corrupt", "liars" and "shambles" on Peterborough Town Hall.
Police officers were alerted to the graffiti on the front of Peterborough City Council's offices in the early hours.
Samantha Moss, 25, of Oundle Road, Peterborough, was arrested and subsequently charged.
She is due to appear at Peterborough Magistrates' Court.
Council contractors have been working to remove the graffiti.
The city council has declined to comment on the attack.