Sally McGrath murder: Paul Taylor jailed for life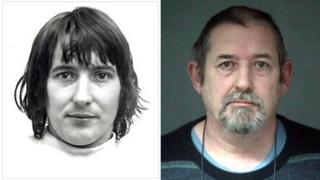 A "sexual predator" has been jailed for life with a minimum term of 18 years for the murder of a Peterborough woman more than 30 years ago.
Former soldier Paul Taylor, 60, of Fareham, Hampshire, was found guilty of killing Sally McGrath, 22, by a jury at Chelmsford Crown Court on Tuesday.
Her body was found in a shallow grave in woodland at Castor Hanglands, Cambridgeshire, in March 1980.
She was last seen alive with Taylor on 11 July 1979 at a Peterborough hotel.
The jury found Taylor guilty of murder following 23 hours of deliberation and an eight-week trial.
'Womanising' builder
He was also convicted of three counts of rape, one attempted rape and a serious sexual assault.
The separate sentences for those crimes - ranging between nine and 16 years - will run concurrently with the murder sentence.
The offences were committed against three different women in the months leading up to Miss McGrath's murder.
Taylor was charged with Miss McGrath's murder last year following a three-year investigation. Earlier inquiries had failed to gather enough evidence against him.
By the time he was re-arrested, Taylor had built a new life away from Peterborough where, his trial heard, he had been known as a "charismatic and womanising" builder.
The ex-soldier moved to Fareham, Hampshire, with his wife Beverley, where the couple ran a fish and chip shop and raised a family.
Detectives from Cambridgeshire Police have said they are looking into the possibility that he attacked more women.
Sentencing him, Judge Mr Justice Owen said: "I think it is clear there was a sexual element to the murder of Sally McGrath.
"The evidence revealed a pattern of behaviour in which you lured your victims in under the pretence of giving them a lift home.
"You then drove them to a rural or isolated area and forced yourself upon them.
"Your predatory sexual attacks took place over 30 years ago but your victims have been left scarred for life.
"I have no doubt the brutal murder of Sally McGrath followed the same pattern and resulted from her resistance to your sexual demands."
During the trial, Taylor's defence barrister Orlando Pownall said the defendant insisted the then alleged sex attacks were all either consensual or did not happen.
He read the court several statements from people who knew Miss McGrath, some of whom referred to drug-taking and her "carefree" attitude to hitch-hiking.
Det Supt Jeff Hill, who led the investigation, said after the hearing: "Paul Taylor, a predatory sex offender, attacked and raped a number of innocent, vulnerable young women and murdered Sally McGrath.
"The conviction was the result of three years' hard work. There was no DNA, CCTV or other single piece of overwhelming evidence, just a solid case built around witness testimony."
Chris McCann, from the Crown Prosecution Service, said: "This has been a challenging case, given the nature of the timescales, but we were confident of a positive outcome, which is especially important for the family and friends of Sally McGrath."