Homeless work helps footballer Erkan Okay turn life around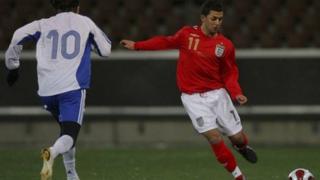 A footballer who "went off the rails" and was convicted of assaulting a police officer while drunk says he has turned his life around by working with homeless people.
Erkan Okay, who started his footballing career with Ipswich Town's academy and now plays for Lowestoft Town, started as a link worker at Jimmy's shelter in Cambridge earlier this year.
It is the latest job in a career which he took up after being sacked by Histon Town in 2009, when he kicked a police officer during a night out.
"I was going off the rails at that point - going out drinking too much and getting in trouble," Mr Okay said.
He also lost his job as a community coach, working with local schools.
"My reputation went downhill after that and it was difficult to stay in that job, as parents didn't trust me," he said.
Mr Okay, 27, described that period as a low point in his life and said he was "devastated" when he realised what he had lost.
But he said it had taught him a lot about who he was and who he wanted to be.
"I thought I needed to change the way I was, my behaviour and how I was as a person," he said.
"It wasn't the first time I'd been in trouble. From when I was 18 to about 23 I was constantly getting into stupid things that I shouldn't have."
Mr Okay said the first part of the road to recovery was taking responsibility and "admitting it was my fault".
"As soon as I did that I realised I needed to sort myself out," he said.
"I started working part time at a youth hostel in Cambridge and through that I built up more confidence and gradually turned full-time, and moved here [to Jimmy's]."
Jimmy's shelter provides temporary accommodation for up to 20 people a night in the centre of Cambridge.
"It's my job to try and help people who come into the shelter - try and resettle them or help them deal with any addictions - just to keep them off the street," Mr Okay said.
"They're homeless and we want to try and get them suitable accommodation as soon as possible."
Mr Okay, who played for the England C team while at Histon, said people at Jimmy's liked to hear him talk about his football career but he tried not to reflect on his past personal battles.
"I don't try to bring it up as much because I don't want it to be about myself, I'm there to help the other guys out," he said.
He said his aim for the future was to "help as many people as I can and do the best for them that I can".
He also wants to stay in football and already has his UEFA B coaching badge, he said.
As for going out, Mr Okay said he still enjoyed a few drinks but not to the extent which got him in trouble while at Histon.
"I do it now to enjoy a night out with my mates, which I can actually enjoy - without the regret the day after," he said.