Prickwillow phone box wrapped up as Christmas present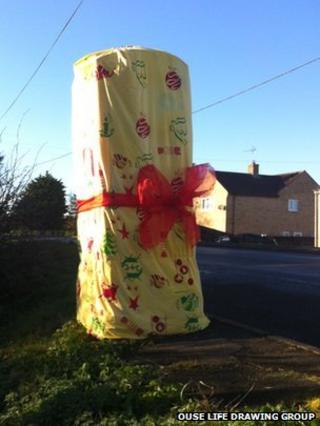 A phone box has been wrapped up for Christmas to bring festive cheer to a Cambridgeshire village.
The Christmas present, made using giant sheets of fabric, has been placed around the phone box in Prickwillow, by the Ouse Life Drawing Group.
The box was bought about 18 months ago by the parish council and turned into a miniature art gallery, Caroline Forward from the group said.
Ms Forward said she hoped the present would "put a smile on people's faces".
It took a group of local artists a few days to make the present and over an hour to place over the red box on Main Street.
Ms Forward said the group contemplated putting a human dummy inside the box to give people an added shock but in the end decided against it.
"We have had a lot of fun with it," she said. "Last year we had angel wings on the box.
"We have had a lovely reaction. People have really 'wowed' it and sent us many compliments.
"We just wanted to put a smile on people's faces."
The present will remain on the box until New Year's Day, she said.