Cambridge teenager Ade Adeniran jailed for killing man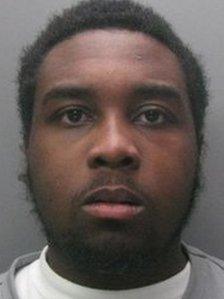 A teenager who admitted killing one of three men who turned up at his Cambridge home has been jailed for 15 years.
Ade Adeniran, 19, fatally stabbed Miciajah Brown, 26, at his Hanover Court home on 3 March.
Last month at Cambridge Crown Court, Adeniran admitted manslaughter on the grounds of loss of control.
He also admitted two counts of wounding with intent to cause grievous bodily harm, relating to the two other men.
He was jailed for nine years for manslaughter, six years for the first count of wounding and five years to the second wounding. He was told he would serve the sentences concurrently.
At the previous hearing, defence barrister Nigel Rumfit said Adeniran "feared serious violence" when three men turned up at the house, where he lived with his girlfriend.
He said the defendant did intend to cause bodily harm, but not kill Mr Brown.
A post-mortem examination confirmed the victim died from multiple stab wounds, one of which severed his femoral artery.
Follwing the sentencing, Mr Brown's family said: "We would like to thank Cambridgeshire police for their hard work in dealing with this case.
"Whatever the outcome it would never reflect the loss we feel."
Det Insp Dan Pawson, of Cambridgeshire Police, said the case highlighted the "tragic consequences" of knife crime
"It should act as a reminder of the devastating impact it can have: a family are now without a son and father and a young man will now spend a number of years behind bars," he said.
"While cases like this are extremely rare in Cambridgeshire one case is one too many."
Related Internet Links
The BBC is not responsible for the content of external sites.