Privately-run NHS Hinchingbrooke Hospital boss got £400k pay-off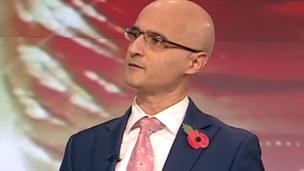 The former chief executive of the first private company to take over the running of a Cambridgeshire NHS hospital received a pay-off of £400,000 when he stepped down, he has told MPs.
Ali Parsa last week said he was stepping down as head of Circle.
It is less than one year in to a ground-breaking 10-year contract to run Hinchingbrooke Hospital.
Giving evidence to the Commons Public Accounts Committee, Mr Parsa denied he was sacked.
The news that Mr Parsa was leaving the post came after the National Audit Office disclosed last month that the company had failed to deliver promised savings and that the hospital was more than £4m in debt - double the target level.
Committee chairman Margaret Hodge MP said: "I know you want to be really honest with us but it stretches our credulity to hear that you have been there six months with this completely new project the government is engaged in, and you're off with a year's money and you are saying this is completely normal.
"Somebody sacked you Mr Parsa to walk away with a £400,000 pay-off, most of which comes from the taxpayer."
Mr Parsa retorted: "I was not sacked. If I was sacked I would tell you that. I have no issue with that."
He said he had left to pursue other projects, although he acknowledged that he had been having "a conversation" with the board for a number of months about leaving.
He strongly defended Circle's work at Hinchingbrooke, saying that it had turned round the hospital's clinical performance, but said it was too soon to judge whether the contract had been a success.
"I think we are doing a very, very good job. It is like judging Mo Farah after 1,000m in a 10,000m race," he said. "We have fixed the quality, we will now fix the cost."
Related Internet Links
The BBC is not responsible for the content of external sites.