Olympic mascot Wenlock built in Lego by Huntingdon couple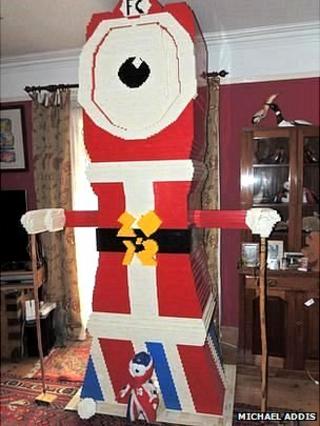 Inspired by the London 2012 Olympics a Cambridgeshire couple has built a 10ft (3m) Wenlock out of Lego.
The Olympic mascot is sporting a Father Christmas look and is the 19th festive model created by Catherine Weightman and Michael Addis.
Ms Weightman said: "We were running out of inspiration, but the Olympics provided us with the answer this year."
Lego Wenlock consists of about 150,000 bricks and took almost two months to build in the couple's lounge.
Ms Weightman said: "We have been making Christmas models since our eldest son was a baby, including Daleks, churches, nutcrackers, Santas and snowmen.
'Antidote' to gloom
"We started building it on 13 October - my husband's birthday - and we finished it in early December.
"We just do a bit most evenings. My husband builds most of it, I do some and my father and mother join in too."
Ms Weightman, from Huntingdon, said their eldest children, Tom, 20, and Holly, 17, are "not too bothered about joining in" but their youngest son Christopher still helps out.
"It's a bit like doing a jigsaw puzzle and a really nice way to pass an hour or two," she said.
"It's also a good antidote to all the gloom and worries."
Over the years the couple has amassed about 25 boxes of Lego which they store in the cellar.
"We're a bit restricted in what we can design by the colours," Ms Weightman said.
"We have mostly red and white bricks, but we really don't need any more.
"Really, we have enough, although occasionally if Michael sees a bargain bag of bricks on eBay he might still be tempted."