Waterbeach composter out of action until December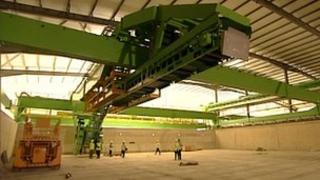 A £42m household waste-sorting machine in Cambridgeshire, which broke down last September, could be out of action until the end of the year.
It means thousands of tonnes of waste which would have been turned into compost at the Waterbeach recycling plant will now be sent to landfill.
Any landfill tax charges incurred while the machine is not working will be met by depot operators, AmeyCespa.
It said the breakdown investigation had "taken longer" than anticipated.
The machine, which composts biodegradable waste filtered from household rubbish, was designed to deal with 2,200 tonnes of waste a week and save Cambridgeshire County Council more than £60,000 a week in landfill costs.
AmeyCespa said it is continuing to undertake "a comprehensive and detailed investigation into the failure of the turning equipment.
"While the final results of the investigation are not yet complete, we do have an indication of potential works required for the long term."
"The time required to undertake the procurement, design, manufacture and installation phases of new equipment will mean that commissioning is unlikely to start until December 2013."