Cambridgeshire guided bus court battle 'costing £2m annually'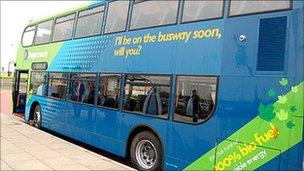 A legal battle between a council and the constructor of Cambridgeshire's guided busway is costing residents £2m per year, it has been claimed.
The Conservative-led county council took BAM Nuttall to court after costs overran by about £62m.
Council taxpayers were funding the annual interest bill on the overspend, Liberal Democrat councillors said.
A council spokesman said the £2m was built into the budget and there was no impact on frontline services.
The busway route, which links Huntingdon with Cambridge and Addenbrooke's Hospital, was opened two years late, in August 2011.
BAM Nuttall's costs rose from about £87m agreed with the council, to more than £150m.
The company was unable to complete the work to the council's satisfaction and another firm was contracted to finish the project.
An ongoing court case to recover the money from BAM Nuttall is expected to continue until early 2014
Kilian Bourke, leader of the Liberal Democrat group, said the battle had so far accrued more than £6m in interest charges.
He described it as a "fiasco" and added: "This is money that could be being used to protect vital frontline services."
The council spokesman said the costs were built into the base budget calculations and had no impact on the provision of council services.
Councillor Ian Bates, cabinet member for growth and planning, said: "The contract is a standard form and the payment mechanism is intended to encourage partnership working.
"It is unfortunate that BAM Nuttall has chosen not to honour the terms of the contract and the council has been left with no option but to take legal action to recover the money that is due.
"We remain confident that we will recover the costs of the construction of the busway from BAM Nuttall, including the cost of any interest charges.
A spokesperson for BAM Nuttall said it was unable to make a comment due to contractual reasons.
Related Internet Links
The BBC is not responsible for the content of external sites.