Cambridgeshire snow disruption warning issued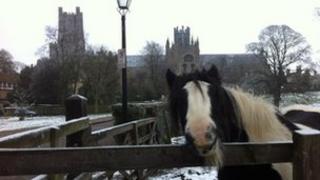 Snow has started falling in Cambridgeshire, with the Met Office telling people to be prepared for potential disruption.
The East of England is on an amber alert to "be prepared", with up to 10cm (4in) of snow predicted to settle.
Snow started falling mid-morning in most areas and will continue throughout the day, the Met Office said.
Temperatures are expected to remain below freezing.
Police said they had not experienced any weather-related problems.
The Met Office has predicted heavy snow in the county during the evening and overnight, with further light snow throughout the weekend and continuing into Monday.
The county council said gritters had worked throughout Thursday night to keep the roads clear of ice.
However, motorists are being warned to take extra care even though the major road networks have been gritted.
'Ghost trains'
Rail companies are also warning people to check before they travel.
Roger Perkins, from First Capital Connect, which operates trains between the county and London, said trains were running to a normal timetable.
However, he said the company had run a number of "ghost trains" overnight to ensure the tracks were kept free of snow.
"In the event, there wasn't any," he added.
Alex Kapadia, operations manager for Cambridge-based etyres, said the company had been working "flat out" during the week responding to motorists' requests for winter tyres to cope with the snow and ice.
Schools in the county have not been affected. Only one has announced that it will close at 13:00 GMT because of the predicted severe weather - the Granta Special School in Linton.