Huntingdon's Zane Smith to have tests in US on brain condition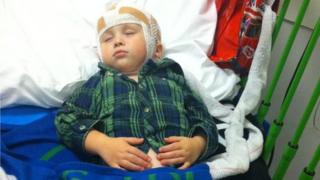 A family have raised more than £5,000 in a day to send their four-year-old son to America for tests on an extremely rare brain condition.
Zane Smith, of Huntingdon, is one of fewer than 100 people in the world who have CCM3, a form of cavernoma, a condition that can be fatal.
His parents Lee and Kim Smith plan to take him to Chicago to see the world's leading expert on the condition.
Their online appeal to fund the trip exceeded its target in just one day.
A cavernoma is made up of abnormal blood vessels and looks like a blackberry. They can range in size from a few millimetres to several centimetres across.
According to the charity Cavernoma Alliance UK, about 90,000 people in the UK, or one in 600 have a brain cavernoma without symptoms.
Stroke or seizure
With symptoms, the number falls to about one in 400,000.
Zane has a particularly rare and aggressive form of the condition causing small lesions in his brain, which could haemorrhage at any time, affecting his behaviour or causing a stroke or seizure.
Mr Smith, 29, said: "He looks a picture of health and on a good day, he's like any other four-year-old boy.
"On a bad day, he's quite often sick, he twitches a lot and his arms flap.
"He's getting a lot of pains in his legs."
Mr and Mrs Smith plan to take him to Chicago in April to see Dr Issam Awad, the world's leading specialist in the condition.
While there, Zane will have a special MRI scan, not available in the UK, that will show exactly where the cavernomas are, how likely they are to haemorrhage and what the effects would be.
'There aren't words'
On Wednesday, Mr Smith launched an online appeal to fund the trip.
In just a few hours, the appeal had exceeded its £5,000 target.
"I can't quite believe it. There just aren't words," he said.
"We've had donations from £5 to £1,000, and they're all priceless. It's astounding."
"We're so grateful. It shows people do club together."
Among those donating to the appeal was Aston Villa and England footballer Darren Bent.
Mr Smith and his wife Kim, 38, who have two other children Keira, 15, and Lily, eight, plan to give the extra money raised to Cavernoma Alliance UK.