Cambridgeshire snow threat to road and rail travel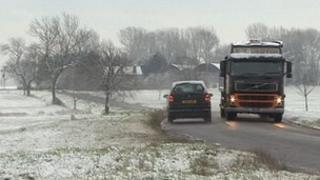 Road users across the East of England are being advised to check the latest weather forecast and road conditions before they travel.
The Highways Agency said it was expecting weather conditions on Sunday to become more difficult.
Snow is now falling in Cambridgeshire and is expected to get heavier.
"Road users are advised to take extra care when travelling due to the increased risk of adverse driving conditions," the agency said.
"Drivers are also advised to plan their journey before they set out, to check the forecast and road conditions."
Where conditions prove to be poor and a journey is unavoidable, drivers are asked to leave extra time or to consider delaying their journey if the weather becomes severe.
Buses replace trains
The Highways Agency is working closely with the Met Office to monitor weather conditions.
First Capital Connect operating trains between London, Hertfordshire and Norfolk through Cambridge said severe weather combined with engineering works brought changes to services.
Buses are replacing trains between King's Lynn and Ely, and on Hertford services.
"This means journeys will be extended and may be disrupted by the cold conditions," a spokesman said.
"Please check for engineering work, allow extra time and check our live train updates page before you travel."
Greater Anglia said it would run planned services on all routes.
"Scheduled engineering works will be taking place this weekend on some routes and customers are strongly advised to check their planned journey before setting out," a spokesman said.
He added that any train service alterations that may be necessary for the morning peak on Monday would be published on their website.