Snow shuts Cambridgeshire schools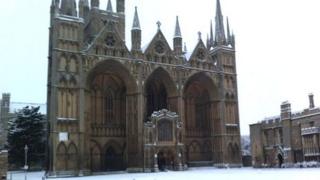 More than 100 schools have been shut in Cambridgeshire due to heavy snow.
Snow fell throughout the county on Sunday leading to the closures, but some schools are open for exams.
First Capital Connect commuters to London have been delayed after a railway bridge was hit by a lorry in Hertfordshire, and there has been disruption at Cambridge Airport.
Road crashes have also occurred, with a van overturning on the A14. Police are advising against unnecessary travel.
Cambridgeshire County Council said all the main roads had been gritted and secondary routes were now being treated to help motorists.
Cambridge Airport said some small business flights had taken off, but crews were "fighting a losing battle" with the weather and were anticipating further delays.
'Distinct lack of traffic'
A yellow warning of snow and ice has been issued for the county by the Met Office warning of more possible disruption to come.
Earlier a van overturned on the A14 eastbound between junctions 16 and 17 causing the carriageway to be shut for a few hours, and two cars collided on the A1(M) near Sawtry forcing the road to be partially closed.
BBC Radio Cambridgeshire reporter Stephen Chittenden said the M11 was "very quiet" for a Monday morning after the snow.
Reporter Johnny Dee said roads were "pretty treacherous" in March, which had about four inches of snow, and there was a "distinct lack of traffic" in Peterborough city centre.
The East of England Ambulance Service has also issued a warning after reports of at least a dozen sledging-related injuries.
While none was life-threatening, some children and adults sustained broken bones or head injuries requiring hospital treatment.
A spokeswoman said: "People should ensure they are well wrapped up and always in control while sledging and wear safety gear as appropriate."
All postal deliveries have gone out of the Cambridge sorting office without delay, Mark Toner from the Communication Workers Union said, but some "brave" postmen had been doing their rounds in shorts despite the freezing temperatures.
"Some of them go out in shorts all year round. There's rumours that it's a competition to see how long they can last. Certain individuals are quite competitive," he said.