Cambridge University Hospitals' safety checks 'working'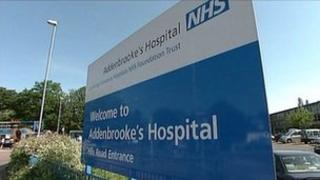 The director of two Cambridge NHS hospitals where eight serious incidents were recorded by a health watchdog in a year has outlined the safety measures since put in place.
Fran Cousins, hospitals director, said checks were working and staff had been "working hard" to avoid mistakes.
Monitor said a silicon mat was left inside a man after surgery at Addenbrooke's Hospital.
In another case, eye surgery was performed on the wrong person.
In November, Monitor found the trust - which runs Addenbrooke's and Rosie hospitals - in "significant breach" of its terms, due to the errors and poor financial performance.
A Freedom of Information request by the BBC found six incidents occurred during surgery and two during child birth, with no person being involved in more than one event.
'Good quality of care'
In one instance eye surgery was performed on the wrong person, and in another a silicon mat was left inside a man, with him winning £7,000 in compensation.
The trust would not confirm whether any staff had been sacked due to the mistakes, but said "appropriate disciplinary action" had been taken.
Ms Cousins said a range of measures had been introduced in operating theatres to improve safety.
"What we have to understand is that we do many thousands of operations each year and that there are many people involved in operations and that individuals and teams can make mistakes at times," she said.
"What we try to encourage at Addenbrooke's is a culture where people can talk about those and where we can work together to improve our systems to make sure that we help protect our patients."
A new chief executive - Keith McNeal - is due to take up his post at the trust on 18 February after Monitor recommended a managerial shake-up.