Cambridge raves 'damaging' reserve wildlife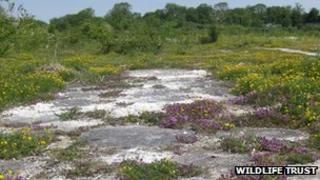 Wildlife and "rare" plants are being threatened by raves at a nature reserve, the Wildlife Trust has said.
It has asked Cambridge City Council to consider by-laws to protect Cherry Hinton Chalk Pits Nature Reserve.
The pits are home to species including the moon carrot, found in only three places in the UK, and are a designated Site of Special Scientific Interest.
A trust spokesman said "numerous drinking parties and raves" had left "a lot of damage and litter" at the site.
Mark Ricketts, deputy reserves manager at the Wildlife Trust for Bedfordshire, Cambridgeshire and Northamptonshire, said: "The pit is a delicate, fragile landscape full of nationally-rare species such as the moon carrot, white helleborine and basil thyme, and anyone straying off the paths to light fires and drop litter will clearly have a negative impact on the surrounding environment."
Mr Ricketts said trust staff had cleared litter after "numerous events" at the site, which is also home to about 60 species of birds including kestrels and long-tailed tits.
Toni Ainley, the council's head of open spaces, said "a number of complaints about activities not desirable to everyone, including drinking parties" had been reported.
She said the council had been working closely with the Wildlife Trust to address concerns.
The council is to consider introducing laws restricting activities such as entry to the reserve at certain times, including breeding seasons, using radios which might disturb wildlife and deliberate damage or disturbance to the area.
She said they would act as an "aid to negotiations with individuals that may be undertaking undesirable actions".