Peterborough City Hospital in second bed shortage alert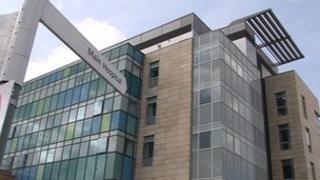 Operations have been cancelled and people warned they could be turned away from a Cambridgeshire hospital's A&E because of a severe bed shortage.
It is the second time in a month that Peterborough City Hospital has declared a "major incident" alert because of high levels of illness in the region.
Twenty-four operations planned for Tuesday have been cancelled.
People with non-serious illnesses have been urged to visit their GP and not attend hospital.
'Prioritise sickest'
All life-saving and cancer surgeries will go ahead as usual, the spokesman added.
Chris Wilkinson, chief nurse at Peterborough and Stamford Hospitals NHS Foundation Trust, said: "This is a local health system-wide problem.
"There are a greater number of people needing a hospital bed for longer as they are very ill, while we are still experiencing higher-than-usual numbers of people being admitted via the emergency department."
There was also a "shortfall of places for hospital patients to be discharged to" in the community, she said.
Non-emergency patients would be referred back to their GP enabling staff to "prioritise the sickest patients", she added.
An "internal major incident" is the highest alert level the hospital has, and is only declared when a trust is concerned it can no longer guarantee beds for patients because of a higher-than-usual demand for its services.
It requires all local health organisations to work together to tackle the situation.
The city hospital has 612 beds and a spokesman said "they are pretty much full".