City of Ely Council to buy closed magistrates' court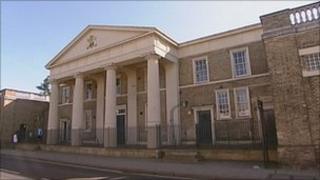 An historic magistrates' court in Cambridgeshire which shut two years ago as part of government cuts is to be bought by the local council.
City of Ely Council will buy Ely's 190-year-old Grade II listed courthouse, which could be used by the community.
Conservative councillor and mayor, Will Burton, said it was in "commercially sensitive" negotiations with the Ministry of Justice over the price.
He did not wish to speculate on local reports it would be sold for £1.
Mr Burton said: "Regarding the cost of it, we are in the throes of negotiating with the judiciary and I can assure you we can afford the price they are asking."
He said members of the City of Ely Council had voted unanimously to acquire the building, which held its final court session in March 2011.
'Toad Hall' connections
Councillors were adamant the city's "heritage landmark building" should be kept in public ownership, he said.
The council proposes to move its offices to the courthouse and plans to discuss other community uses for the building with arts, culture and education organisations in Ely.
"The courtroom itself is very old and traditional, so perhaps a museum or similar body might take that over," Mr Burton said.
"I understand originally it was used as the description of a courtroom in Toad of Toad Hall, so it has some quite interesting connections."