Waterbeach Barracks closes to make way for housing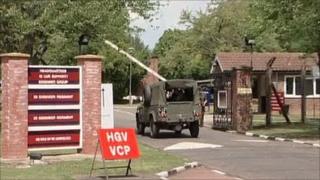 The station staff officer at Waterbeach Barracks says he will have a "few tears" as the base closes to make way for housing.
The barracks, north of Cambridge, is closing on Thursday and will be handed over to the Defence Infrastructure Organisation to be sold.
Maj David Hornby, who has been at the barracks since 1991, said: "I've not had a bad day, it's been fantastic."
Nine hundred servicemen and women and their families lived at the barracks.
Maj Hornby praised the local community, which had worked "hand in hand" with the base.
He said: "I could talk all day about what us and the community have done together.
"We've raised thousands of thousands of pounds for charities, and looked after the local populace."
He said he hoped the developers would find a home for the barracks' museum.
"That needs to be shown to the public," he said.
"I'd like to think the developer would put something on the site to say this is what these brave people did and how they served the community."