Crows 'devastate' Cambridgeshire cricket pitch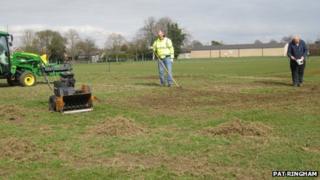 A county cricket match has been forced to find a new venue after crows caused "devastating" damage to a pitch in Cambridgeshire.
Groundsmen at March Town Cricket Club said crows had torn up large patches of grass while feeding on grubs.
Club member Pat Ringham said the crows caused more damage than "50 hooligans let loose with golf clubs".
Pitch inspector Mel Pooley, said: "You spend your life tending something and then it gets totally wrecked."
Mr Pooley, who is also head groundsman, has been trying to bring the pitch back to its former glory after the crows descended on the outfield.
'Very annoying'
"They started tearing the grass up looking for grubs which had hatched there," he said.
"The grubs eat the roots, and the crows spot that and literally rip out chunks of grass to get to them."
He said the area had been sprayed, but because of the recent cold weather the chemicals had not worked properly.
"It now looks like someone's just come in with a turf cutter and peeled back all the grass," Mr Pooley said.
"It's very annoying when you spend your life tending it, then something completely out of your control wrecks it."
Mr Ringham, who has been involved with the club for more than 55 years, said it was the worst damage he had seen.
"If you gave 50 hooligans a seven-iron golf club each and asked them to do as much damage as possible, I don't think they would equal what the crows have done," he said.
Cambridgeshire's one day MCCA Trophy match against Cumberland on Sunday will now be played at the Harecroft Road ground in Wisbech.