Dalai Lama makes Cambridge visit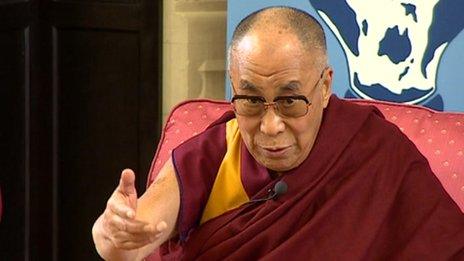 The Dalai Lama has spoken of his hope for a peaceful world in this century, during a two-day visit to Cambridge.
The Tibetan spiritual leader has been invited as a speaker at the Global Scholars Symposium. It is his third visit to the city.
Speaking ahead of the conference, he said: "I think [there is] some hope within this century humanity, through education, can be more compassionate.
"Through that way we can develop a peaceful world, a compassionate world."
He previously visited the city in 1973 and again in 1993.
Speaking at Cambridge University, the Dalai Lama said: "Cambridge is a very famous education institution.
"I am very happy to come here and particularly the opportunity to talk, to share, about non-violence."
On Saturday he will lead a discussion on non-violent conflict resolution, with academics from around the world.
Brianne Kent, executive director of the symposium, said: "We are absolutely delighted to host the Dalai Lama in Cambridge.
"We hope that his talk will provide a platform to motivate scholars to use their careers to help reduce violence and promote peace around the world."
The 14th Dalai Lama was born Lhamo Dhondub on 6 July 1935 in a small village just outside the current boundaries of Tibet.
His parents were farmers and had several other children.
When he was two years old, a search party of Buddhist officials recognised him as the reincarnation of the 13 previous Dalai Lamas and he was enthroned before he turned four.
The Dalai Lama currently lives in exile in India.
Related Internet Links
The BBC is not responsible for the content of external sites.