Stab vest for River Cam bailiff amid safety fears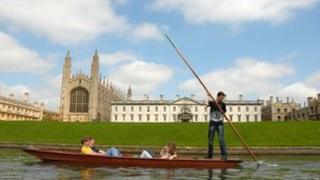 A stab vest is to be issued to a river bailiff in Cambridge amid fears for his safety while patrolling the River Cam.
Adrian Hoyes requested the vest at a meeting of river managers, the Conservators of the River Cam, quoting an "increase in hostility".
"Aggressive and excessive" touting, break-ins and deliberately untying boats were some of the incidents cited.
The meeting heard "hostility by members of the public was being experienced increasingly by staff."
Dr Philippa Noon, of the conservators, said: "Our bailiff does get into some confrontational situations, especially when enforcing vessel registrations.
"He has to issue summonses and other documentation when people have failed to get proper licences, and naturally they're not very happy to receive those."
Kevin Price, a member of the conservators and a city councillor, said: "It's more of a response to the times in which we live rather than any particular incident.
"It's unfortunate, and not something I would welcome but it's an insurance policy, really.
"It's about protection and I hope he never needs it."
Dr Noon stressed the stab vest was a "precautionary measure" and said other river agency staff have them issued as standard.
"If nothing else, it does have a lot of pockets, so those will come in handy," she added.