Cambridge Asbo swan case study to inform river authorities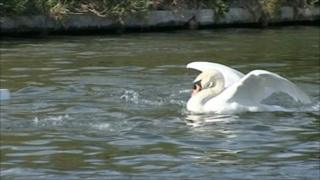 River authorities are being given advice on tackling "troublesome" birds based on the experiences of an aggressively territorial Cambridgeshire swan, nicknamed Mr Asbo.
Dr Philippa Noon, from the Cam Conservators, has written a case study to be published on the Association of Inland Navigation Authorities' website.
Mr Asbo was moved to another site after three years of attacking river users.
Dr Noon said authorities should expect their birds to become "celebrities".
She has documented the troubled history of the swan's repeated attacks, which were first reported in 2009.
'Famous swans'
Advocates of the swan said he was "doing what swans do, and protecting his territory".
However, increasing numbers of rowers reported being attacked, and efforts were made to protect both him, his mate and river users from each other.
"The combative mode taken by the bird can include airborne swoops or mounting boats, and pecking and beating their wings over the prone victim," Dr Noon said.
"Attacks can be extremely unpleasant and dangerous."
She also detailed the complicated attempts to relocate Mr Asbo and his mate.
These included ensuring they were moved outside the breeding season, and involved both Natural England and the Queen's Swan Marker.
"Do not underestimate the difficulty of proving the case for relocation," she warned.
"The media will take great interest. Your swan may join the parade of other famous bad-tempered swans including Mike Tyson and Hissing Sid."
Last April, Mr Asbo and his mate were moved from the River Cam to a sanctuary outside the county under licence from Natural England, where they were said to be thriving.