Peterborough Prison has highest self-harm figure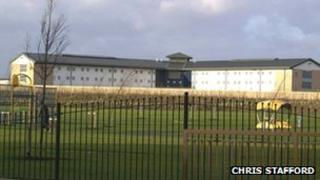 Peterborough Prison has the highest number of recorded self-harm incidents in England and Wales, figures released by the Ministry of Justice (MoJ) show.
More than 1,200 incidents were reported last year, almost 400 more than the next highest, Foston Hall in Derby.
The Howard League for Penal Reform said the figures could reflect the fact that both prisons house women, who account for about half the self-harm figures.
A Prison Service spokesman said it took inmate safety "extremely seriously".
The MoJ data for 2012 showed 1,256 recorded self-harm incidents at Peterborough which is a category B local prison which can house up to 480 males and 360 females in separate units.
Foston Hall, a closed all-female prison which can house up to 310 inmates, reported 874 incidents.
Andrew Neilson, campaigns director at the Howard League for Penal Reform, said: "It is shocking, obviously that Peterborough tops the table, but the positive news is that nationally the figures for self-harming in prisons has gone down.
"The key point is Peterborough houses both men and women.
"While self-harm in custody is a problem found across the board, there's absolutely no doubt it's the biggest problem with women in prison.
"They represent only one in 20 people in prison but make up almost half of all self-harm incidents in custody.
"We have not got a gender breakdown for Peterborough, but I suspect the vast majority of those reported are women," he said.
The next highest, Foston Hall, and two of the other top five, Bronzefield in Middlesex and Eastwood Park in Gloucestershire, are all-women prisons.
Mr Neilson added: "The vast majority of women in prison have not committed violent crimes. They have drug and alcohol addictions or mental health problems and have committed minor offences usually to feed those addictions and prison is not the place for them."
In a statement, the Prison Service said: "We are committed to open and transparent reporting of data relating to deaths in custody, self-harm and assaults.
"It remains a priority to reduce the number of deaths and violence in custody.
"Prisons take the responsibility of keeping prisoners, staff and visitors safe extremely seriously."