Cambridge City FC's farewell to Milton Road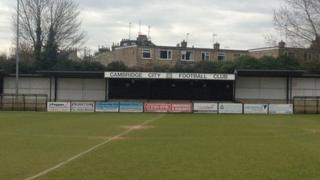 After more than 90 years and about 2,750 games, a football club has played its last game at its Cambridge ground.
Milton Road has been home to Cambridge City FC since 1922, but with its site sold, the team has been forced to groundshare with nearby Histon FC.
They signed off with a 1-0 win over Redditch, thanks to a goal from the aptly named Adie Cambridge.
Catering manager Paul Burling said: "It's the end of an era but not the end for City, that's the main thing."
The club was founded in 1908 as Cambridge Town, and played at various venues around the city before purchasing the Milton Road site.
The first match was played there against Merton, in the Southern Amateur League, on 29 April, 1922.
Club historian Neil Harvey, said the match programme showed how much the new ground had cost - £2,769 - which included purchase costs, building a grandstand and preparing the pitch.
The opening match attracted about 2,500 fans, said to be above average for the time.
When Cambridge itself was granted city status in 1951, the club changed its name from Cambridge Town to Cambridge City FC.
It played on the original pitch until 1984 when it moved to the next-door site.
However, in 2005, the ground was sold to developers and the club has been leasing the land while looking for a new home.
With the lease coming to an end, the final game in the Evo-Stik Southern League Premier Division brought its long history in the city to an end.
'Entwined with emotion'
Gill Wordingham, the club's volunteer finance director, said: "I go back 70 years with this club.
"I came here as a baby in a pram as my father played for Cambridge in those days.
"I came back six years ago to help keep the club alive, and it will be sad to see it go," she added.
Groundsman Nigel Green said he had tended the pitch "five days a week, whatever the weather, since 1982".
"They will have to let me go at the end of the season," he said. "It's a real shame, but it was inevitable once the ground was sold."
The club will share a ground with nearby club Histon while waiting for planning permission to be granted for its proposed new 3,000-capacity stadium to the north of Sawston.