Maria de Villota crash: F1 testing at Duxford F1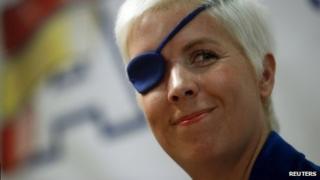 F1 testing is being carried out at Duxford in Cambridgeshire nine months after a test driver lost an eye in a crash.
Maria de Villota was seriously injured while testing for Marussia at the track in July 2012.
After treatment at Addenbrooke's Hospital, she recovered in Spain and was cleared to drive again in February.
The testing by an unnamed team on Friday is the first of five test days at Duxford this year.
'Getting on well'
According to witnesses, De Villota's car "suddenly accelerated" into the back of a support lorry during her test debut for Marussia ahead of the British Grand Prix.
The team has said its own investigation has ruled out a fault in the car as a cause of the crash.
In an interview in February, De Villota said she still had headaches and "felt weak", but was "getting on well" and had missed driving.
The Imperial War Museum (IWM) at Duxford is open as usual on Friday, with visitors able to see the straight-line speed testing on its runways.
Up to 180 runs are completed between 08:00 and 18:00, under terms agreed with South Cambridgeshire District Council in 2010.
'Fine-tuning'
Esther Blaine, of IWM, said testing at Duxford was a "well-run, efficient system".
The airfield has its own fire and security teams, which were praised for their involvement in dealing with the immediate aftermath of the crash, she said.
She explained that drivers took the cars out at speed with the the team "fine-tuning" between tests.
"We have this wonderful straight line runway and it's that they'll be testing on," she added.
"It's really about getting the car as perfect as it can be for the next race test."
The Health and Safety Executive said it was still investigating the Marussia crash.