New Wisbech cub group has six first languages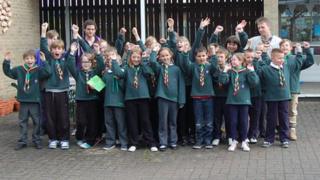 A cub group set up in Cambridgeshire in February has recruited children who speak six first languages between them.
Cambridgeshire Scouts said it had not previously set up a pack with such a variety of languages.
The cubs' native speech includes Latvian, Russian, Slovakian, Lithuanian, Polish and English.
The 2nd Wisbech Orchards Group is based at Orchards C of E Primary School, Wisbech and is run by volunteers from its staff.
Cub leader and Year 4 teacher Nathan Cant said language had not been a barrier because the children's grasp of English was good and "this kind of thing brings the community together".
"The children don't actually have activities to do outside school in this area and because of that we thought it would be brilliant to give them something to focus on," he added.
"Now they're doing things under their own initiative and it's giving them some motivation."
Forty-five children have joined the 2nd Wisbech Orchards Group, which consists of a Cub pack for children aged eight to 10-and-a-half and a Beaver colony for six to eight-year-olds.