RAF Duxford: The 'country club of the ETO' remembered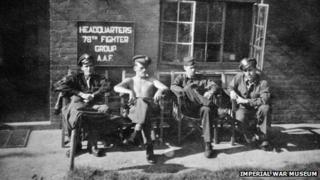 With the attack on Pearl Harbour in December 1941 the US effectively entered World War II.
And so began what came to be known as the "friendly invasion", when thousands of American servicemen crossed the Atlantic to Great Britain.
Many ended up in East Anglia as part of the strategic air offensive which became home for American fighter crews - or "little friends" as their planes became known by the bomber crews they escorted towards Germany.
Seventy years on, RAF Duxford in Cambridgeshire, which housed the 78th Fighter Group, is hosting a year-long commemoration of the anniversary of their arrival.
Duxford researcher Carl Warner said their appearance in the region between late 1942 and 1943 had quite an effect on the local populace.
"In East Anglia you basically had a carpet of airfields, a mix of bomber and fighter, all doing that air offensive job," he said.
Many villages in the area had airfields rapidly constructed but because RAF Duxford was a pre-World War II airfield it was just "ready to go".
The 78th arrived there from Goxhill in Lincolnshire and became operational in April 1943.
Mr Warner said the site - completely updated in the 1920s and 30s - soon became dubbed the "Country Club of the European Theatre of Operations."
"Goxhill was muddy and cold, with tin huts, and very basic. Then they came to Duxford and it was amazing.
"It had completely updated brick buildings, it was steam heated and had all mod cons and they absolutely loved it."
Former 78th Squadron pilot Clark Clemons said: "We pulled up in front of [Duxford] - it was like the Grand Hotel. We thought that must be the headquarters and no - that was the barracks!"
Fellow pilot Jim Stokes said flying a mission from there was the "only danger point".
"We would land, we would get into class A uniform, go to dinner at night, have a cocktail - where else could you fight a war like that?"
Mr Warner said seeing aircraft take off and head out to war was soon a "huge part of East Anglian life".
"If you imagine day after day bombers taking off filled with crew forming up over the skies of the region, it's a difficult thing to describe, that volume of aircraft," he said.
"And you can't plonk 1,500 Americans in the middle of the British countryside and then repeat it all over East Anglia without it having an effect."
'Over here'
"Overpaid, oversexed and over here" was a phrase coined by English comedian Tommy Trinder.
But while there were some tensions, both the US and UK authorities were keen to foster good relations between servicemen and their British hosts.
As well as holding Christmas parties and tours for local children, the Americans held dances at the base attended by local women.
Former pilot Fred Swauger said the monthly parties were mostly remembered for the food.
"For the ladies in Cambridge who got invited to it that was a real deal," he said.
"Not because they wanted to be with a particular individual who invited them, but because of the food there - they had everything, roast beef, hams and real eggs."
Mr Warner said: "American commanders worked very hard to ensure that their men were behaving sensibly because the last thing you wanted to do was upset an ally."
"Instructions for American servicemen abroad were published, which informed them that the British national character was reserved and quiet.
"They said don't be too brash and don't splash your money about, these are reserved people and they have been touched significantly by war for three years whereas America had not,"
Some British families also made a conscious effort and invited American servicemen into their homes.
"In turn the men would make efforts to support that family with things they couldn't get here, like rationed stuff," said Mr Warner.
There are still reminders of war-time American presence across the region with many villages hosting a memorial to American airmen.
"When you go into village churches you will see evidence, a memorial stone and sometimes stars and stripes and letters from communities in America that are still writing to people here," said Mr Warner.
But, he added, there is a section of East Anglia that is, and will always be, America.
"The American cemetery in Madingley, where many of these American servicemen were buried - that is the clearest definition I can see of making the ultimate cultural sacrifice," he said.