Cancer nurses in Cambridgeshire fund-raise for their own centre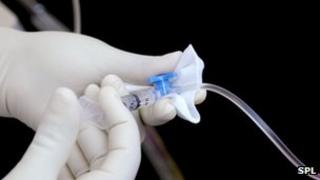 Staff at an NHS cancer centre in Cambridgeshire have said they need to raise £800,000 themselves in order to double the size of the facility.
The Woodlands Centre is part of privately-managed NHS Hinchingbrooke Hospital near Huntingdon and supports about 4,600 patients each year.
Cancer nurse Gini Melesi said demand for local care had increased as more people were living with the disease.
A hospital spokesman said community help was vital to the campaign.
The Woodlands Cancer Centre opened in 1998 and is used for chemotherapy, other cancer-related treatments, complementary therapy and psychological support to patients from the local area.
'Amazing treatments'
Plans have already been drawn up for an extension and about £8,000 has been raised towards the cost.
"We want to give a better service to our patients, and we want to keep treatment local so they won't have to travel out to other hospitals," Mrs Melesi said.
"The question I'm most often asked is, 'Why are the staff having to do this - why not the NHS?'.
"But if you could see the costs of some of these amazing treatments that are keeping people alive longer, you might understand," she added.
She said staff, patients and local businesses were helping to raise funds, and events including a car boot sale and charity ball were planned.
"Our original centre was also built through charitable donations, and I truly believe the NHS just can't keep funding the things that we need," Mrs Melesi said.
Hisham Abdel-Rahman, the hospital's clinical chairman, said it had "a history of working closely with our community to raise additional funds to improve our services and provide new equipment".
"A close relationship with our community helps us with additional funding, and also gives the community ownership of their hospital," he said.