Cambridge man Stephen Morton dies in Alaska rafting accident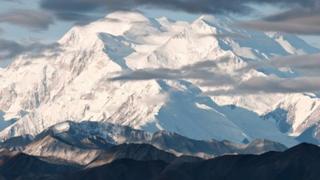 A man from Cambridge has died in a rafting accident in Alaska within days of climbing the highest mountain in North America.
Stephen Morton, 47, was pronounced dead on Tuesday, after getting into difficulties near the town of Hope.
It is understood Mr Morton had recently climbed to the summit of Mount McKinley, also known as Denali.
The Foreign Office said it was "providing consular assistance to the family at this difficult time".
Mr Morton was on a trip organised by North American firm NOVA and the incident happened on Six Mile Creek.
'Medical assist'
Nova's website describes it as Alaska's most challenging class IV and V white water rafting trip.
Rafters pass through three canyons, each progressively more challenging, with narrow routes, steep drops, and rapids.
Alaska state troopers, a Forest Service officer and emergency medical services all responded.
A trooper's report said: "A raft operated by NOVA River (Runners) overturned, causing everyone to go overboard."
Other boaters on the river pulled Mr Morton from the water and started resuscitation.
He was taken to Providence Alaska Medical Center in Anchorage, where he was declared dead on Tuesday.
NOVA River Runners' owner, Chuck Spaulding, said it was not immediately clear how Mr Morton died.
Alaska State Trooper's spokesperson Beth Ipsen said full details on the incident were not collected initially because Mr Morton had apparently survived.
"At the time we thought it was a medical assist," Ms Ipsen said, "but now we're having to go back and gather additional information."
Mr Morton's wife, Vanessa Langlois, said: "We are devastated, he phoned before he left for the rafting trip.
"He was so happy to have reached the Denali summit safely and was so happy to be coming home," Ms Langlois said.