Shepreth war memorial: Soldier's name corrected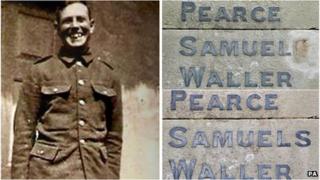 A memorial which misspelt a fallen soldier's name has been corrected almost 97 years after his death.
Pte George Samuel died aged 20 in 1916, but his name was misspelt as "Samuels" on the war memorial in Shepreth, Cambridgeshire.
Alison Corfield, 67, of Shrewsbury, Shropshire, fought to have her great-uncle's name corrected, saying it had caused his parents "great distress".
The parish council paid for the work and it will be re-dedicated in July.
Mrs Corfield said Pte Samuel was a soldier in the London Regiment, and believes he fought in the Battle of the Somme, which began in July 1916.
"He was killed on 30 September 1916. He died of wounds and is buried at St Pierre cemetery in Amiens," she added.
Mrs Corfield said authorities had refused to correct the error after the memorial was erected, and Pte Samuel's family had tried to cover the extra "s" with mud.
She contacted the parish council arguing that a change would be appropriate as the 100th anniversary of the start of the 1914-18 war was approaching.
Council members agreed to cover the cost of a stonemason who has now made the correction.
The memorial will be rededicated on 7 July and Pte Samuel's family will be invited to attend, a council spokesman said.