St Neots fairground ride 'slammed to the floor'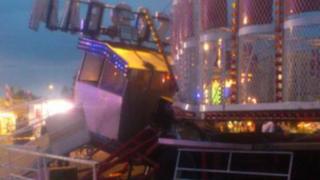 A woman has described how the fairground ride she was on made loud "clunking noises" before it collapsed to the ground.
Onlookers rushed over to the ride at a fairground in St Neots to help deal with the injured.
One man on board the X-Scream ride was taken to hospital with a damaged tendon in his leg and whiplash. Ten others were treated at the scene.
It happened at about 21:00 BST on 31 May while 25 people were on board.
Faye Young, who was on the ride, said: "We sort of heard a clunk every time it moved. We thought something's not right. And then we got about halfway up and it slammed - it just collapsed."
The X-Scream spins and rises up to a 45 degree angle.
Emma Richards was watching the ride with her daughter as her partner and his friend were on it.
'Smoking and jumping'
She said: "The ride started to spin round and all you could hear was a clanking sound and then the ride started jumping. Then the ride started to lift up and tilt to the side a bit.
"Next thing it started smoking and jumping a lot more.
"Then all of a sudden the control box caved in and the ride slammed to the floor breaking the lighting surrounding the ride as well."
Ms Richards said Matthew Goose, her partner, had to be taken to hospital with a damaged tendon in his leg and whiplash and is now off work for a week. His friend also has bruises all over his leg and a cut arm, she said.
Victoria Boughan, who also saw the ride collapse, said: "I just ran to the front of the ride and tried to see if anyone was hurt. There was someone with a nose bleed so I tried to get that stopped."
Huntingdon District Council said the fair is operated by F C Muggeridge and Son from Rutland. They were not available for comment.
Donna Rocket from the council said the fairground company sets up in St Neots every year.
Permission is given for the fair after public liability insurance is checked and the paperwork is correct. The council said the company pays rent for the authority's land and does not need a licence.
The Health and Safety Executive is investigating the incident.