Cambridge University Hospitals say 70 staff 'at risk'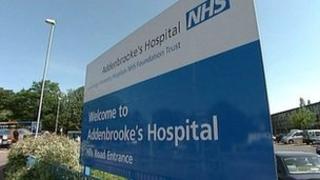 Up to 70 posts could go at two Cambridgeshire hospitals after its operator said it had begun consulting staff over potential job losses.
Cambridge University Hospitals said the proposed cuts, across many departments at Addenbrooke's and Rosie hospitals, "would not affect patient safety".
A spokesman said the plans would be discussed with staff until 17 July.
He added it was the first of three waves of proposed redundancies at both city hospitals.
It is expected 20 posts would go through staff retiring and their vacant posts not being filled.
The Cambridgeshire University Hospital NHS Foundation Trust is under pressure to save £39m in 2013-14.
Healthcare unions are yet to respond to the proposals.
'Anxious time'
In 2012, hospital regulator Monitor found the trust was in "significant breach" of its terms, with one of the factors being its inability to achieve a sustainable financial recovery plan.
In an email sent to staff earlier, the trust said staff pay accounted for 65% of its entire budget.
It said tighter controls had recently been imposed on the use of agency staff and only essential posts were being filled, allowing costs to come down.
But its new chief executive, Dr Keith McNeil, said: "We are doing all we can to minimise redundancies. But we have reached the point where we have to decide which roles we can do without.
"Patient safety remains at the heart of all we do and removal of roles will only happen if there is no tangible risk to the quality and safety of patient care and the effective functioning of our hospitals.
"I realise that this is a very challenging and anxious time which is going to be very difficult for some members of staff.
"Support, including offers of redeployment, will be given and we are making sure that anyone at risk is informed as quickly as possible."
When he took over in February, Dr McNeil said keeping the hospitals' finances in order would be his "big focus", saying he wanted to achieve "high quality" and "sustainable" care.