Dracula and Frankenstein mix-up in new exam blunder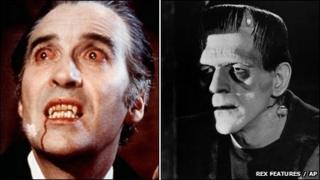 Cambridgeshire school pupils were told they had been taught the wrong Gothic text, a week after students in Suffolk discovered a similar A-level blunder.
Nine pupils at Impington Village College studied Dracula, instead of Frankenstein.
Students were told on Friday, ahead of Thursday's exam. "A teacher said it wasn't so bad as Dracula was an optional extra text," a parent said.
Exam board AQA said it was aware and pupils would not be disadvantaged.
The relative of one student said a teacher called to explain the mistake, but no extra tuition was offered.
'Strange' mistake
"The students had already studied three other set texts and Bram Stoker's Dracula novel had been taught as an extra one, giving pupils more options in the final English Literature paper," he told the BBC.
"That aside, some have put about 25% of their study time since Christmas into a book that won't feature in the exam.
"Students could have used that time for other work," he added.
He said it seemed "strange" that teachers at two schools should have made the same mistake.
Less than two weeks ago four students at Newmarket College in Suffolk were told they had also been studying Dracula erroneously - a text that had been removed from the curriculum earlier by exam board AQA.
They were given a five-hour intensive session to bring them up to speed with the correct text - Mary Shelley's Frankenstein.
A spokesman for Impington Village College said: "Along with a number of other centres we have sought clarification from AQA and can confirm that all our A-level English students have been taught the texts required to answer the exam questions on Thursday.
"One of the four texts studied in class (three are required to be studied) was indeed Bram Stoker's Dracula. AQA has confirmed that students will be able to answer on this text on Thursday.
In both the schools' cases, AQA said: "Where a school has taught the wrong text by mistake, we work with them to find the most appropriate solution so that students aren't disadvantaged.
"We have put arrangements in place so that students will be able to refer to Dracula in part of their responses and their answers will be marked as normal."