Cow rescued from River Cam in weir drama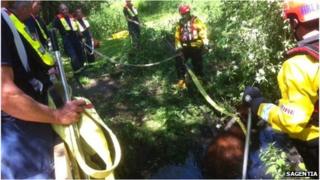 A cow had to be rescued after being swept across a weir and becoming trapped in a river in Cambridgeshire.
It was hauled to safety from the River Cam near Harston Mill on Tuesday afternoon, by animal officers from Cambridgeshire Fire and Rescue Service.
Firefighters wearing wetsuits used straps and harnesses to pull the cow out, which was said to have been in a "distressed" state when they arrived.
The service said it was well and had been returned to a local farmer.
It is thought the animal floated down the river before becoming trapped in trees and roots, it added.