Cambridgeshire Wimpole Hall team restores stained books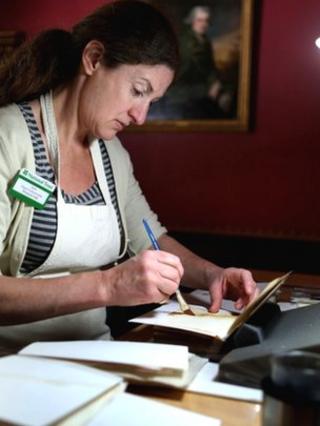 Books damaged by water from a leak caused by thawing snow in 2010 at a Cambridgeshire National Trust hall, are being restored by experts.
It is expected to take two years to make good 259 books stained by dirty water, at Wimpole Hall near Cambridge.
Visitors to the hall will be able to see the conservators at work.
Steps have now been taken to prevent future damage, including installing heaters to melt build ups of snow.
With more than 6,000 books, including 4,000 printed before 1810, Wimpole's library is one of the National Trust's largest and most varied.
Manager Lisa Voden-Decker said the restoration work process is quite surprising.
"When I first saw conservators flood a page with water it was shocking," Ms Voden-Decker said.
"Results speak for themselves. Their skill and patience with the process is absorbing, and they are so good at explaining what they are doing.
"Our visitors can get right up to their work bench and are intrigued to be able to see a page being treated and transformed in front of their eyes ."