Cambridge University Austin Seven roof stunt 'safely' tested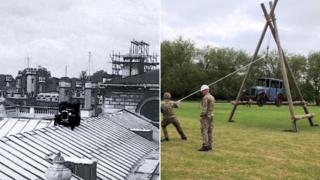 Cadets in Cambridge hoisted a vintage car into the air to see how a more dramatic stunt might have been created by students in the city 55 years ago.
Overnight on 8 June 1958, an Austin Seven van appeared 70ft (20m) up on top of the university's Senate House.
Unable to restage the stunt for "health and safety reasons", the cadets built a pulley system in a park instead.
It took 10 cadets 10 minutes to lift a 1929 Austin 10ft (3m), raising money for national and local charities.
The original stunt is thought to have been carried out by 12 engineering students and was widely reported in the press at the time.
Members of the Cambridge Austin Seven and Vintage Car Club wanted to recreate the prank, but were told it was impossible because of traffic restrictions in the area.
'Heath Robinson affair'
They also tried to contact the original perpetrators, but failed.
However, they did call on the university's officer cadets to help them turn their idea into a reality.
Ten cadets built a platform using posts, ropes and pulleys on Jesus Green in Cambridge, on Saturday.
A car club member donated a battered 1929 Austin Seven saloon, which was in need of restoration.
Its doors, roof and wheels were bolted back on and cadets painted it "Cambridge blue".
Lt Col G Macintosh, commanding officer, said: "The original winch system used in 1958 was a rather 'Heath Robinson' affair, but our task was to solve the riddle of how it was done - while keeping within strict health and safety guidelines, of course."
The winch system took the cadets just under two hours to build, and lifting the car took a further 10 minutes.
"It was done in the spirit of the original prank, but was really just a bit of fun," Lt Col Macintosh added.
"But it was a useful learning exercise and we raised quite a lot for our chosen charities, Combat Stress and Jimmy's Night Shelter."