Cambridge street gets blue plaque for every house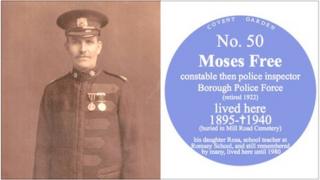 A 'blue plaque' has been awarded to every house on one Cambridge street in recognition of "notable or interesting" people who lived in them.
Resident Ian Bent used census data and historical documents to research past occupants of all 44 houses in Covent Garden, off Mill Road.
He uncovered connections to a prostitute's murderer and a barber who cut hair in the corner of a bakery.
The replica plaques are being displayed in windows for the annual street party.
Throat cut
Mr Bent, a retired professor of music history, said: "Every year I like to do something for the party, and this year the blue plaque scheme seemed like a good idea.
"I basically looked at past residents and picked on one who had the most interesting story."
Frederick Scriven, who lived at number nine for almost 50 years from 1872, was a tailor whose assistant ended up being hanged for the murder of a 16-year-old prostitute in the city in 1876.
Emma Rolfe was killed by former soldier Robert Browning, aged 25, on Midsummer Common. Her throat had been cut.
Browning was tried on 29 November 1876 at the Norwich Assizes. He was found guilty and a plea of insanity was rejected.
He was hanged in the Cambridge Borough jail on the south-east corner of Parkers Piece, where the YMCA and multi-storey car park now stand.
Emma Rolfe was buried in Mill Road cemetery close to Covent Garden.
'Sheep shearer'
Five other houses on the street were purchased as tied cottages and occupied by officers from the Borough police force during the late 19th and early 20th Centuries.
They included Moses Free, who rose to the rank of inspector, and whose grandson still lives in the city.
Another former resident, Archibald Frost, set up his own hairdressing business in the corner room of a baker's shop at the top of the street.
"He had his own entrance, but it was still basically part of the bakery," Mr Bent said.
"He ran that business until 1955, and someone who used his services told me Archie was 'more like a sheep shearer than a hairdresser'."
Covent Garden residents are now displaying their homes' history on the laminated plaques created by Mr Bent's wife Caroline.