Cambridgeshire fire service 'cannot make further cuts'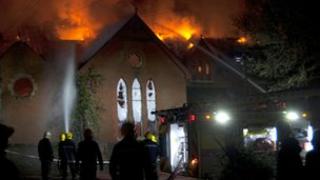 Cambridgeshire Fire and Rescue Service cannot make further cutbacks without frontline work being affected, its new authority chairman has warned.
Sir Peter Brown of Cambridgeshire and Peterborough Fire Authority said the county's predicted population growth gave the force "immense challenges".
He said he would "relentlessly remind" government ministers that any further savings could affect people's safety.
The service has so far achieved £4.2m in budget savings and cut 65 jobs.
Plans for a full merger between Cambridgeshire and Suffolk fire services to save money were put on hold in February.
Sir Peter, however, said he would continue to investigate ways in which the force could work with other partners to share resources.
"We have immense challenges ahead of us. Cambridgeshire is the fastest growing county in the country and Peterborough has its own planned population growth," he said.
"This being the case, I firmly reject any notion that we can reduce our services any further in the next Comprehensive Spending Review period [post 2015].
"What's more, we should be forward-looking and consider how we are going to develop our fire and rescue service, which will serve an area with at least 50,000 more homes.
"I will relentlessly remind government ministers and Members of Parliament that we cannot continue to reduce our expenditure without cutting the frontline service."