Mobility scooter escorted off 70mph A14 in Cambridgeshire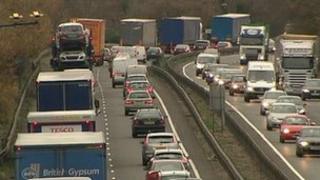 A man had to be escorted off a 70mph (110km/h) stretch of the busy A14 in Cambridgeshire, after driving along it in his mobility scooter.
Concerned motorists called the police when they spotted the 56-year-old cruising along in the inside lane eastbound, near Bar Hill.
A spokesman said: "He probably joined by accident or didn't realise you can't drive mobility scooters on the A14.
"We gave him some strong words of advice and he went safely on his way."
The man was escorted along the hard shoulder by officers who shielded him from other traffic.
An eyewitness tweeted: "Seeing the mobility scooter cruising down the dual carriageway was the highlight of my day."