Cambridge A14 mobility scooter driver 'won't do it again'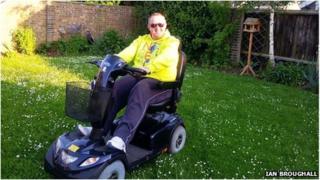 A mobility scooter driver who was escorted off the busy A14 near Cambridge by police on Wednesday has said he will not do it again.
Ian Broughall, 56, from Bar Hill, was driving at 8mph on the edge of the inside lane of the 70mph road.
"I needed to get to town but my carer couldn't drive me. It was a lovely day so I thought I would ride," he said.
After encountering the police he said he would not use the A14 again. "I may be disabled but I'm not daft," he said.
Mr Broughall, a father of two and a grandfather, has beaten testicular cancer in the past, but has to use the scooter because he has multiple sclerosis (MS).
'Give it a go'
"It's not easy to get to Cambridge from Bar Hill, and it was such a nice day I wanted to get out to take some photographs, which is my hobby," Mr Broughall said.
"I thought I would give the A14 a go.
"I've done it once before, and I was doing just fine until I saw all these flashing lights behind me - and that's when the trouble started."
Concerned motorists alerted Cambridgeshire Police at about 11:00 BST on Wednesday.
Although it is not illegal to use one on an A-road, Mr Broughall said he had not really considered he might be a danger - or in danger - until officers pulled him over and gave him some "strong words of advice".
"There's no hard shoulder on that part of the A14, so I was right on the white line and thought that would be OK," he said.
"I think the police caused more of a hold-up because they surrounded me with two vehicles to escort me off."
Mr Broughall said he was "usually very responsible", but added he was "not stupid" and would find a different route next time he wanted to go out.
"Anyway, in the end I had a fantastic day taking some lovely pictures," he said.
"And it's nice to know I seem to have cheered up a few people. One driver said on Twitter that seeing me on the A14 in my scooter was 'the highlight of his day'."
Mr Broughall did not use the A14 to get home again. He asked someone to pick him up.