Royal Mail workers in Peterborough in wildcat strike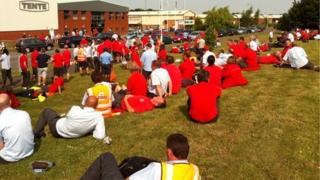 Staff at a Royal Mail sorting office in Cambridgeshire have walked out in a wildcat strike.
The Communication Workers Union (CWU) said about 170 staff walked out of the Werrington office in Peterborough at 06:30 BST.
The strike was triggered by disciplinary action against one member of staff.
CWU are in talks with management. A Royal Mail spokeswoman said it was doing all it could to minimise disruption.
Andy Beeby, branch secretary for CWU, said delivery and sorting staff were involved in the strike.
'A personal issue'
"There's been a disciplinary incident this morning which we are trying to resolve at the moment," he said.
"Until such time as it's sorted out they will be stopping here.
"It's a personal issue and I'm not going to go into details."
Mr Beeby said the strike would affect deliveries.
"We apologise for that but until the situation is sorted out satisfactorily that's all we can do," he said.
Royal Mail spokeswoman Sally Hopkins said: "Royal Mail can confirm that colleagues have taken unballoted industrial action at Peterborough delivery office and mail centre this morning.
"We apologise to customers in the Peterborough area for the disruption to their mail services and we are doing all we can to minimise this disruption.
"Royal Mail is fully committed to the process of trying to resolve concerns of postal workers based in Peterborough by continuing to follow the national jointly agreed framework with the Communication Workers Union (CWU)."
She added that deliveries in the PE1, PE2, PE3, PE4, PE5, and PE6 postcode areas had been affected.