UKIP's call for A14 referendum rejected by council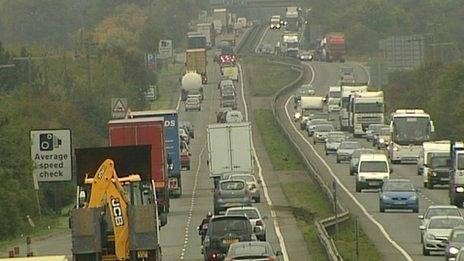 A call for a referendum on whether an upgrade to the A14 in Cambridgeshire should be paid for by government has been "overwhelmingly rejected".
UKIP made the suggestion at a full county council meeting but councillors voted 51 to 14 against it.
The party said local tax payers should not contribute to the scheme.
A local contribution of £100m, £25m of which is expected to come from the county council, has been agreed as part of the £1.5bn project.
Funds to upgrade the route linking the port of Felixstowe in Suffolk to the M1 and M6 at Catthorpe, on the Northamptonshire-Leicestershire border, were agreed at last month's Spending Review.
Martin Curtis, leader of the Conservative run council, said UKIP's suggestion was "overwhelmingly rejected" at the meeting.
He also said UKIP's calls for referendums into the A14 and other issues were unfeasible.
However, UKIP councillor Peter Reeve said the public was being denied having its say.
"We in UKIP are democrats and we believe our role is to put across the views of the residents," he said.
"They don't want to see Cambridgeshire council tax money put into national schemes."
Work on the A14 upgrade is expected to start in 2016.
Related Internet Links
The BBC is not responsible for the content of external sites.