Chittering burglary murder: Man blames co-accused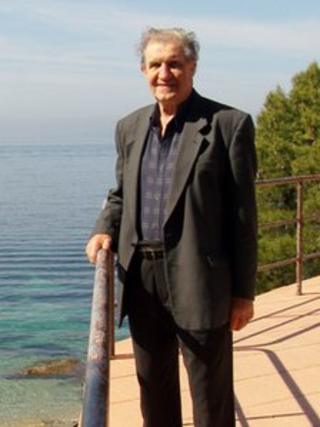 A man accused of murdering a pensioner in a burglary gone wrong told a court he heard his co-defendant say he was going to "kill" the man.
Llywelyn Thomas, 76, was found dead inside his home in Ely Road, Chittering, on 18 December 2011.
Frankie Parker, 26, of Nene Road, Ely, and Gary Smith, 21, of the Fen Road travellers' site, both deny murder.
Mr Parker told the court he had seen Mr Thomas laying bleeding after he was attacked by his co-defendant Mr Smith.
Prosecutors at Cambridge Crown Court allege Mr Thomas was savagely beaten after two men forced their way into the house the previous night.
'Don't look'
Describing how he had been searching another room for valuables, Mr Parker said: "I heard my uncle say he was going to kill him. He shouted it to me and he just sounded normal so I didn't believe him.
"I heard a thud - like something hitting on the ground. He had no reason to do it so I thought he was joking about.
"Afterwards he came out holding the crow bar and said 'don't look'."
The court heard Mr Smith denies robbery while Mr Parker admits this charge.
Mr Smith's father John Smith, 67, of Wold Gate, Bridlington, East Yorkshire, has admitted assisting an offender by providing a false alibi.
Burglaries 'our work'
The jury was instructed to acquit him of a second count of assisting an offender by acting as the getaway driver.
He will be sentenced for the first offence at the end of the trial.
Mr Parker said he and Mr Smith, his uncle, had watched Mr Thomas's property before the burglary.
He added: "We used to do burglaries and steal cars together. At the time it was our work."
Father-of-one Mr Thomas, a retired farmer from Wales, had lived alone since the death of his wife.
The trial continues.