Cambridge riverside deaths cause 'could take weeks' to determine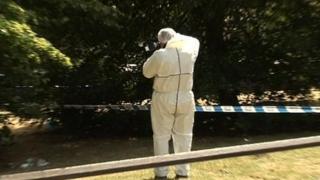 Police investigating the deaths of two people near a Cambridge river said it could take up to eight weeks to determine exactly how they died.
A woman and a man died near Jesus Green lock in the city on Tuesday afternoon.
Although the deaths are being treated as "unexplained", the pair were believed to have been taking drugs.
Officers have appealed for information about drugs supply within the city and said they were carrying out "reassurance patrols" in the area.
Emergency services, including an ambulance hazardous response unit, were called to the popular riverside spot at about 12:05 BST.
Toxicology results
A woman who had collapsed was treated by paramedics but died at the scene.
A man taken ill nearby also died.
A second man who became ill was taken to hospital as a precaution, officers said. His condition is not yet known.
The three people, believed to be in their 30s or 40s, were together at the time of the incident, police said.
A cordon was set up on the banks of the River Cam while forensics officers examined the area.
A spokesman said investigators were "keeping an open mind" about the deaths but confirmed they were not being linked to an incident last month when three suspected heroin users were taken ill - one of them on Jesus Green - after using drugs.
The results of toxicology tests on the two people who died on Tuesday are expected within six to eight weeks.