Royal baby 'Union Jack' pensioner in nine-day camp-out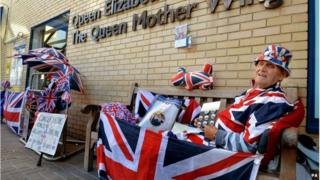 A pensioner known as "The Union Jack Man" has spent nine days outside St Mary's Hospital in Paddington, waiting for the birth of the royal baby.
Terry Hutt, 78, from Whaddon, Cambridgeshire, has been a "mad-keen" Royal Family fan since he was four.
Dressed in red, white and blue, he is living on a bench and being fed porridge by the hospital nurses.
"I had to go home once because the wife said I needed a bath, but I'm staying now until the baby is born," he said.
This is not the first time Mr Hutt - who campaigns on behalf of pensioner groups in East Anglia and volunteers his DIY skills to the region's elderly and disabled - has gone to such great lengths to see the Royal Family.
'Happy family'
He camped out in front of Westminster Abbey in April 2011 to bag a prime spot for the wedding of Prince William and Catherine Middleton.
"I've loved the Royals since the King and Queen visited my family after the Blitz in London.
"They gave my mum and dad a mug for me and I've followed them ever since," Mr Hutt said.
"I've watched all the babies arrive, but this one's special because the parents are the Duke and Duchess of Cambridge, and that's my home now.
"Royal babies don't just grow on trees you know."
Mr Hutt said members of the Royal household had come to know him as "The Union Jack Man".
Nurses from St Mary's Hospital have been bringing Mr Hutt breakfast each morning, and he said the police had been looking after him, as had other passers-by.
"My royal bench is the best campsite in the world and it's very comfortable, but I think some people are a bit worried about my health," he said.
"Lots of people give me food and blankets and every evening I take those round to people living rough nearby. We have a good chat and a laugh.
"This morning a homeless person came over and gave me a banana. How wonderful is that?"
Mr Hutt has two congratulations cards at the ready - one for a boy and one for a girl - which he hopes to present to Prince William.
"I'm just hoping for a healthy baby," he said.
"A healthy baby and healthy parents will make for a happy family."