Bassingbourn clubs evicted for Libyan army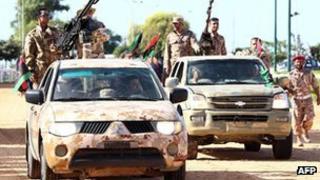 Village clubs which used a former barracks site have been told to make way for the Libyan army.
Up to 2,000 Libyan troops are to be trained at the Bassingbourn Barracks in Cambridgeshire.
The site had been used by a number of village groups, some of which still have equipment there.
The Army said it would review its decision after the initial tranche of training but a local councillor called it a "blow" for the village.
The last British soldiers trained at the Army Training Regiment barracks passed out last summer. Since then the land has passed into the ownership of the Defence Infrastructure Organisation (DIO).
The first Libyan soldiers will arrive at the end of 2013.
Colonel Alex Macintosh, commanding officer of the Cambridge University Officer Training Corps, said clubs that use the base had already been given notice while the future of the barracks site was being discussed.
"When the Libyan project came upon us a review was carried out," he said.
"Regrettably the decision came back that the clubs will not be able to use the site during the period of Libyan training there."
Club 'concerned'
Since March, clubs based at the barracks have been barred from using the land for their usual activities.
Bassingbourn Golf Club has already decided to close as a result of the ban,
But Bassingbourn Snowsports Club, which has its own slope in the barracks and has been operating for decades, is in talks with the DIO about buying its part of the site.
Any deal is dependent on the snowsports club securing its own access to its slope.
Club secretary Martin Middleton said: "As we have yet to find out the purchase price and cost of alternate access and whether or not the club's members think this is affordable, we share the concerns of the other clubs about the future use of the barracks."
Adrian Dent, county councillor for Bassingbourn, said it was not known how long clubs would be barred from the barracks.
"It is a big blow for the area," he said.