Cambridge river 'etiquette guide needed'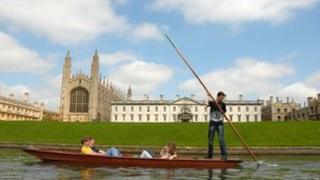 An etiquette guide is needed for river users in Cambridge to tackle an "unacceptable" rise in anti-social incidents, a rowing association said.
These included a 70-year-old man whose leg was broken in a "hit-and-run" punt collision, and a rowing eight that failed to stop after damaging a boat.
Bill Key, president of the Cambridge Rowing Association, said: "Etiquette has fallen short of acceptable levels."
A rivers users' group formed last year is to consider publishing guidance.
The group includes representatives from the rowing association, the university boat clubs and river managers, the Cam Conservators.
The conservators have documented other recent incidents on the river including "intimidation and harassment" of its staff and arguments between pleasure-boat owners and rowing crews.
Mr Key said the river users' group had been formed initially to consider the best ways to protect wildlife on the busy river, however it now planned to draw up a code of conduct to address "bad manners".