Cambridgeshire artist draws picture of car park thief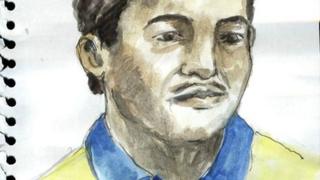 An artist who was the victim of a distraction theft in a car park in Cambridgeshire has sketched a picture of the man she believes stole from her.
Police have released the image after the 51-year-old woman was targeted in Tesco car park in Bar Hill on 15 July.
The man asked the portrait artist for directions while she was loading her car. Later she discovered a debit card was missing from her handbag.
PC Alex Swinborne said he hoped the image would help them trace the man.
The victim, an art teacher, said: "I have a very good visual memory and do notice people's faces and what they're wearing.
"As time passes the memory fades, so four days later I decided to paint the picture in case I was asked for a description."
She managed to cancel her stolen debit card before any money was taken.